Display a quick list of package with only their version
Overview
The output may be customized by passing one or more of the PEAR_INFO_* constants bitwise values summed together in the optional 'resume' options parameter.
Screenshot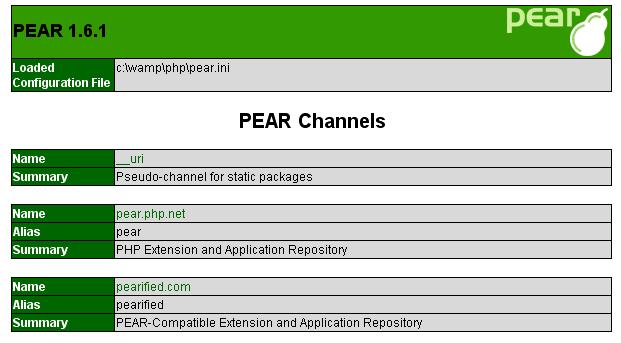 ...
...
Dependencies
This example requires mandatory resources :
Explains step by step
Include the mandatory library at line 2, then instanciated a new PEAR_Info object at line 8, telling where to find the PEAR config file (second parameter), and a hash of options (fourth parameter), to filter PEAR information output. And finally display result at line 10.
resume key tell, with usage of PEAR_INFO_* constant, what information to display.
PEAR_INFO_GENERAL - display loaded configuration file reference, with PEAR version and its logo
PEAR_INFO_CHANNELS - display list of channel (name, alias, summary)
PEAR_INFO_PACKAGES_VERSION - display only "version:state:release date" of package installed
channels key tell what package information channel to display. Default is only, pear.php.net.
Source Code
PHP code
require_once

'PEAR/Info.php'

;

$options

=

array

(

'resume'

=>

PEAR_INFO_GENERAL

|

PEAR_INFO_CHANNELS

|

PEAR_INFO_PACKAGES_VERSION

,

'channels'

=>

array

(

'pear.php.net'

,

'__uri'

,

'pearified.com'

)

)

;

$info

=

new

PEAR_Info

(

''

,

''

,

''

,

$options

)

;