Combines two drivers
Overview
Log events both to firebug console (through FirePHP) and to a flat file, using the composite driver of PEAR::Log
Screenshot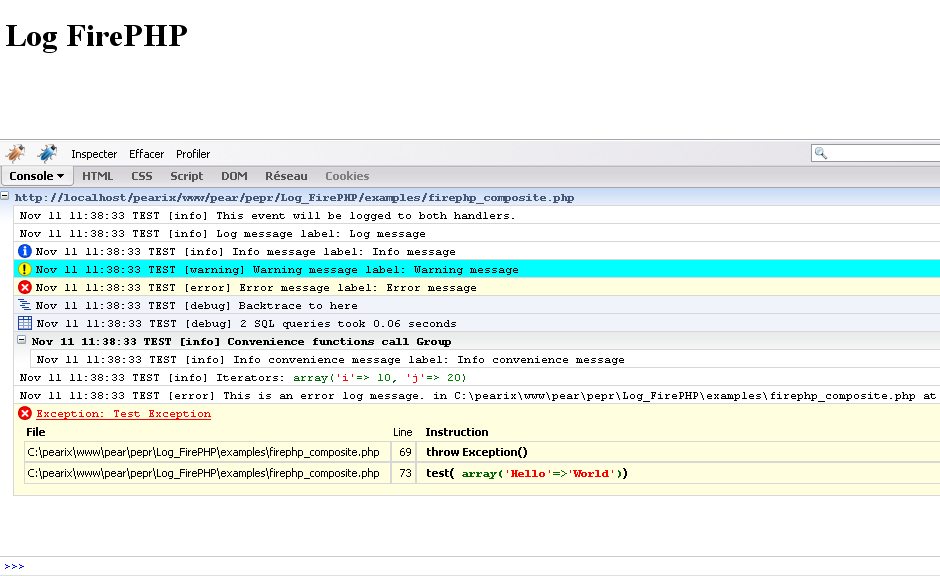 Dependencies
This example requires mandatory resources :
Explains step by step
This example log the same type of events as with basic usage, but also log result to a flat file (in this example).
Start by creating the individual log handlers on lines 30-31.
Then, construct a composite handler and add the individual handlers as children of the composite on lines 36-38.
We have just to send events to the composite handler instance to get result on two targets (firebug console and flat file).
Source Code
PHP code
* Composite usage of FirePHP PEAR::Log driver

* @author Laurent Laville <pear@laurent-laville.org>

* @copyright 2008-2009 Laurent Laville

* @license http://www.opensource.org/licenses/bsd-license.php New BSD License

* @link http://pear.php.net/package/Log

* @example examples/firephp_composite.php

* @link http://www.laurent-laville.org/img/log/screenshot/Log_FirePHP_example4.png

* screenshot (Image PNG, 940x576 pixels) 36.7 Kb

<!DOCTYPE HTML PUBLIC "-//W3C//DTD HTML 4.01 Transitional//EN" "http://www.w3.org/TR/html4/loose.dtd">

<html>

<head>

<title>Log FirePHP composite examples</title>

<meta http-equiv="content-type" content="text/html; charset=iso-8859-1" />

</head>

<body>

<h1>Log FirePHP</h1>

$file

=

&

Log

::

singleton

(

'file'

,

'out.log'

,

'TEST'

)

;

$firephp

=

&

Log

::

singleton

(

'firephp'

,

''

,

'TEST'

)

;

$firephp

->

registerErrorHandler

(

)

;

$composite

=

&

Log

::

singleton

(

'composite'

)

;

$composite

->

addChild

(

$file

)

;

$composite

->

addChild

(

$firephp

)

;

$composite

->

log

(

'This event will be logged to both handlers.'

)

;

$composite

->

log

(

array

(

'message'

=>

"Log message"

,

'label'

=>

"Log message label"

)

)

;

$composite

->

log

(

array

(

'message'

=>

"Info message"

,

'label'

=>

"Info message label"

,

'type'

=>

PEAR_LOG_FIREPHP_INFO

)

,

$composite

->

log

(

array

(

'message'

=>

"Warning message"

,

'label'

=>

"Warning message label"

,

'type'

=>

PEAR_LOG_FIREPHP_WARN

)

,

$composite

->

log

(

array

(

'message'

=>

"Error message"

,

'label'

=>

"Error message label"

,

'type'

=>

PEAR_LOG_FIREPHP_ERROR

)

,

$composite

->

log

(

array

(

'message'

=>

apache_request_headers

(

)

,

'label'

=>

"RequestHeaders"

,

'type'

=>

PEAR_LOG_FIREPHP_DUMP

)

,

$firephp

->

log

(

array

(

'label'

=>

"Backtrace to here"

,

'type'

=>

PEAR_LOG_FIREPHP_TRACE

)

,

$table

[

]

=

array

(

'SQL Statement'

,

'Time'

,

'Result'

)

;

$table

[

]

=

array

(

'SELECT * FROM Foo'

,

'0.02'

,

array

(

'row1'

,

'row2'

)

)

;

$table

[

]

=

array

(

'SELECT * FROM Bar'

,

'0.04'

,

array

(

'row1'

,

'row2'

)

)

;

$composite

->

log

(

array

(

'message'

=>

$table

,

'label'

=>

'2 SQL queries took 0.06 seconds'

,

'type'

=>

PEAR_LOG_FIREPHP_TABLE

)

,

$firephp

->

log

(

array

(

'label'

=>

'Convenience functions call Group'

,

'type'

=>

PEAR_LOG_FIREPHP_GROUP_START

)

)

;

$composite

->

info

(

array

(

'message'

=>

"Info convenience message"

,

'label'

=>

"Info convenience message label"

)

)

;

$firephp

->

log

(

array

(

'type'

=>

PEAR_LOG_FIREPHP_GROUP_END

)

)

;

$var

=

array

(

'i'

=>

10

,

'j'

=>

20

)

;

$composite

->

log

(

array

(

'message'

=>

$var

,

'label'

=>

'Iterators'

)

)

;

trigger_error

(

'This is an error log message.'

,

E_USER_ERROR

)

;

throw

new

Exception

(

'Test Exception'

)

;

test

(

array

(

'Hello'

=>

'World'

)

)

;

/* Log exception including stack trace & variables */

$composite

->

log

(

$e

,

PEAR_LOG_ALERT

)

;

</body>

</html>